Elsie Singmaster Lewars
Elsie Singmaster (Lewars) was an O Henry and Newberry award winning author of short stories and books during the first half of the twentieth century. Singmaster is well known for her stories about the Pennsylvania Germans from whom she descended on her father's side. A resident of Gettysburg from 1900-1958, she also wrote widely about the Battle of Gettysburg. In 1907, she was graduated from Radcliffe College, Cambridge, Massachusetts. Singmaster was a lifelong Lutheran. She worshipped at Christ Evangelical Lutheran Church in Gettysburg and served broadly in church and community leadership capacities. She wrote Martin Luther, The Story of His Life in 1917 to help celebrate the Lutheran-sponsored Quadra centennial of the Reformation. Singmaster was the daughter of John Alden Singmaster, professor and president at the Lutheran Theological Seminary at Gettysburg from 1900 until his death in 1926.
Abdel Ross Wentz
Abdel Ross Wentz (1883-1976) was a significant leader within American Lutheranism mid-twentieth century as both an interpreter-teacher and as a leader in Lutheran participation in formation of both the Lutheran World Federation and the World Council of Churches.
From his base as Professor of Church History (1916-1956) and President (1940-1951) of the Lutheran Theological Seminary at Gettysburg, PA, Wentz provided for fifty years the widely used textbook in the field of American Lutheran history. He took leadership from the early Lutheran World Convention in 1923 through the formation of the Lutheran World Federation in 1947 (when he became the first Vice-President) and the World Council of Churches in 1948 (where he was the American Lutheran representative in the formation and business committees). He exercised leadership both through his role as teacher, writer, and popular speaker, and through his participation in meetings and creation of documents that led to the worldwide and ecumenical organizations mentioned above.
John Peter Shindel Gobin
John Peter Shindel Gobin was born in Sunbury, Pennsylvania on January 26, 1837, the son of John S. and Susan (Shindel) Gobin. He was named for his grandfather, the Rev. John Peter Shindel, a pioneer Lutheran minister in Northumberland County. He learned the printing trade at the Sunbury American, then studied law and was admitted to the Northumberland County Bar in 1858. During the Civil War, Gobin served as captain of Co. C, 47th Pennsylvania Volunteer Infantry, and rose to command the regiment as colonel by the end of the war. On March 13, 1865, he was made a brevet brigadier general of volunteers for gallantry at the Battle of Pocotaligo, South Carolina. After the war, Gobin returned to the law and politics, serving in the Pennsylvania State Senate from 1885 to 1899, followed by a term as Lieutenant Governor of Pennsylvania from 1899 to 1903. He died at Lebanon, Pennsylvania on May 1, 1910.
Samuel Simon Schmucker
Samuel Simon Schmucker was born in Hagerstown, Maryland on February 28, 1799. Educated at the University of Pennsylvania and the Princeton Theological Seminary, Schmucker became one of the first and foremost (and sometimes controversial) Lutheran scholars of his day, writing extensively on theology and doctrine. He helped organize the General Synod of the Lutheran Church in America in 1820, and then served as one of the founders of both the Lutheran Theological Seminary at Gettysburg (1826) and Pennsylvania College (1832). He served on the faculty of both institutions until 1864. A committed abolitionist and reformer, Schmucker also supported the education of women and minorities. Schmucker died at Gettysburg, Pennsylvania on July 26, 1873.
Henry Melchoir Muhlenberg

Henry Melchoir Muhlenberg, considered to be the patriarch of the Lutheran Church in the United States, was born September 16, 1711 in Einbeck, Hanover, Germany. A graduate of the Georg-August University of Göttingen in 1738, Muhlenberg studied theology at the University of Halle. In 1742 he immigrated to Philadelphia in response to an official request from Pennsyvlania Lutherans for professional clergy. He organized the Lutheran congregation at Trappe, Montgomery County, and in 1748 established the Ministerium of Pennsylvania, the first permanent Lutheran synod in America. He helped to prepare a uniform Lutheran liturgy, and also put together basic tenets for an ecclesiastical constitution which most of the American churches adopted in 1761. Muhlenberg also traveled extensively along the east coast, serving as the leader of new congregations from Maryland to New York. His family had a significant impact on colonial life in North America. In addition to Henry's role in the Lutheran church, his children became pastors, military officers, and politicians. Henry Muhlenberg died October 7, 1787 at Trappe, Montgomery County, Pennsylvania.
Mary Elizabeth Markley

First woman on the national staff of a Lutheran denomination. Mary Markley, duaghter of the Reverend A. B. Markley, was born in Millerstown, Pennsylvania. She graduated from Ursinus College (1902) and received a master's degree in English from Agnes Scott College in Decatur, Georgia, before becoming supervisor of the Service House for the National Commission for Soldier's and Sailors' Welfare (1918-1919). Markley became secretary for the Board of Education of the United Lutheran Church in 1919 and served until 1946. Her responsibilities included visitation to colleges and seminaries and recruiting missionaries for overseas work. She was a board member of the Lutheran Nurses Guild, the Women's Missionary Society, the Lutheran Student Association, and the National Christian Council. Her efforts opened doors for other women to enter professional church work.
John Casper Stoever
A pioneer German Lutheran pastor in Pennsylvania, Stoever was born in the Lower Palatinate. He arrived in Philadelphia in 1728, having had some private theological training, and soon began a ministry that lasted for a half a century. After several years spent in the Philadelphia area, during which he was ordained, he moved into Lancaster County about 1735 and eight years later into what is now Lebanon County, where he spent the rest of his life. Stoever ministered to many of the Lutherans in these two areas and organized a number of congregations for them. Between 1735 and 1743 he made a dozen or more trips west of the Susquehanna river and as for south as Virginia, performing pastoral services for many of the Germans, and some others, he found there. His personal register records a total of more than 2,000 baptisms and 1,400 marriages. This does not include others which he entered only in congregational registers. Although he was eventually received into the ministerium which Henry Melchior Muhlenberg and his associates organized in 1748, Stoever was essentially an independent pastor. Strong willed, determined, and apparently often obstinate, he was usually a controversial figure, but at a time when ordained ministers were few and far between in the Pennsylvania field, John Casper Stoever provided services for many hundreds of Lutherans and others who wanted them. He collapsed and died in 1779 while conducting a confirmation service, and was buried in the graveyard of the Quitopahille or Hill church, near Cleona, Lebanon County.
William Alfred Passavant

William Alfred Passavant (1821-1894) was the zealous home missionary who became the great 19th century pioneer in social services among American Lutherans. Born in Zelienople, Pennsylvania, Passavant was for decades involved in forming synods and establishing congregations.
But his heart went out to the poor and suffering of the communities in which he worked, largely in western Pennsylvania and the states immediately west of Pennsylvania. In 1846 his visit to deaconess institutions in Germany turned his ministerial zeal toward helping the poor, the suffering, the orphans and the whole range of concerns for the most needy people in American communities. With scarce resources (small gifts from Christians to whom he appealed), and with zeal and strong faith that "the Lord will provide," he established numerous hospitals and orphanages, starting with his home community at Zelienople and extending as far as Chicago and Milwaukee in the west and Mt. Vernon, New York in the east. He introduced deaconesses from Germany to work in these institutions. His publications, The Missionary and later The Workman were widely read and influential.
To sum it up, by his zeal, by his ability to inspire people, by his vision of Christian service to the needy ones, by his confidence in the Lord's guidance and support, Passavant became the pioneer leader and builder in the continuing-to-this-day strong tradition of Lutheran Social Services.
Frederick Augustus Conrad Muhlenberg

Frederick Augustus Conrad Muhlenberg was born January 1, 1750 in Trappe, Montgomery County, Pennsylvania, son of the noted Lutheran theologian Henry Melchoir Muhlenberg. Like his father, Frederick received his theological training at the University of Halle in Germany and was later ordained as a Lutheran minister by the Ministerium of Pennsylvania on October 20, 1770. He served parishes in Pennsylvania and New York City from 1770 to August 1779, when he then became a member of the Second Continental Congress. From 1780 to 1783 Muhlenberg served as speaker in the Pennsylvania House of Representatives. He attended the Pennsylvania state convention to ratify the U.S. Constitution in 1787, where he served as president, and then won election to Congress as the first Speaker of the House of Representatives from 1789–91. As Speaker, he was the first to sign the Bill of Rights. After serving four consecutive terms in Congress, including a second term as Speaker from 1793–95, Muhlenberg retired from national politics in 1797. He served in Pennsylvania as president of the council of censors and receiver general of the state land office until his death at Lancaster, Pennsylvania, on June 4, 1801.
Charles Philip Krauth

Charles Philip Krauth was born May 7, 1797 in Montgomery County, Pennsylvania. In 1819 the Ministerium of Pennsylvania licensed Krauth to preach. After serving Lutheran congregations at Martinsburg and Shepherdstown, Virginia, he was called in 1827 to Philadelphia to take charge of the recently organized English congregation. He became a trustee of the Lutheran Theological Seminary at Gettysburg in 1826 and of Pennsylvania (now Gettysburg) College in 1832. At the college, he served as professor of Intellectual and Moral Science, then in 1833 he was elected professor of Biblical and Oriental Literature at the seminary. The following year, in 1834, Krauth was unanimously elected president of Pennsylvania college, a position he held until 1850 when he resigned to devote his time exclusively to duties in the theological seminary. From 1850–1861 Krauth also edited the Evangelical Review. Krauth died at Gettysburg, Pennsylvania on May 30, 1867.
John Peter Gabriel Muhlenberg

John Peter Gabriel Muhlenberg was born in Trappe, Pennsylvania, on 1 October, 1746. He was ordained in 1768 and served as pastor of Lutheran churches in New Germantown and Bedminster, New Jersey, before removing to Woodstock, Virginia, in 1772. Besides his new congregation, he led the Committee of Safety and Correspondence for Dunmore County, Virginia. He was elected to the House of Burgesses in 1774, and was a delegate to the First Virginia Convention. During the Revolutionary War Muhlenberg led the 8th Regiment of the Virginia Line and eventually rose to the rank of major general. After the war he was elected a member of the Pennsylvania Council, was in 1785 chosen vice-president (equivalent to lieutenant governor) with Benjamin Franklin as president, and served as presidential elector in 1797. He served in the U.S. House of Representatives from 1789–1795 and 1799–1801. He entered the U. S. senate in March 1801, but resigned after President Jefferson appointed him supervisor of the revenue for the District of Pennsylvania. In 1803 he was made collector of the port of Philadelphia. Muhlenberg died near Philadelphia, Pennsylvania on 1 October, 1807.
John Andrew Shulze

John Andrew Shulze was born July 19, 1774 in Tulpehocken Township, Berks County, Pennsylvania, the son of Lutheran minister Christopher Emmanuel Shulze and grandson of Henry Melchoir Muhlenberg. Ordained as a Lutheran pastor in 1796, he left the ministry for health reasons in 1802 to become a merchant. In 1806 he took his place in the Muhlenberg political dynasty with his election to the Pennsylvania General Assembly where he served three terms. Shulze then served in several row offices in Lebanon County government from 1813 to 1821 before returning to the General Assembly and then being elected to the State Senate in 1822. In 1824 Shulze became the 6th Governor of Pennsylvania, defeating former U.S. Senator Andrew Gregg. He won reelection over challenger John Sargeant in 1826 in one of the most lopsided contests in Pennsylvania political history. During his tenure in office, Shulze pushed unsuccessfully for a free compulsory education system in Pennsylvania, which was later adopted under the administration of his successor, George Wolf. He also oversaw major canal and road building projects. After leaving office, Shulze retired to Montoursville, Pennsylvania. He returned briefly to the public spotlight to become a delegate to the first national convention of the Whig Party in 1839, and served as president of Pennsylvania's Electoral College which elected William Henry Harrison as the 9th U.S. President in 1840. John Andrew Shulze died in Lancaster, Pennsylvania on November 18, 1852.
Thomas Mifflin

Thomas Mifflin was born January 10, 1744 in Philadelphia. He began his career as a merchant, but then entered the Provisional Assembly of Pennsylvania from 1772–1776. He also served as a delegate to the Continental Congress from 1774–1775, but left to join the Continental Army after the start of the Revolutionary War. Although Mifflin came from a Quaker family, he was expelled from the Society of Friends because of his involvement in the military. Mifflin then embraced the Lutheran tradition. He was commissioned as a major, then served an aide-de-camp to George Washington and, on August 14, 1775, became the army's first Quartermaster General. Mifflin eventually rose to the rank of major general before resigning to serve another term in the Continental Congress from 1782–1784, where he was elected President of Congress and signed the Treaty of Paris that ended the American Revolution. In 1787 he attended the Constitutional Convention in Philadelphia and was a signer of the U.S. Constitution. The following year Mifflin was elected the 7th President of the Executive Council of Pennsylvania (under the 1776 State Constitution), succeeding Benjamin Franklin. Under the new State Constitution of 1790, Mifflin was elected the 1st Governor of Pennsylvania. He held that post until December 17, 1799, and then returned to the state legislature, where he served until his death the following month on January 20, 1800.
Michael Jacobs

Michael Jacobs (1808-1871), a native of Franklin County, Pennsylvania, he was graduated by Jefferson College in 1828 and began teaching in Gettysburg the following year. He became a member of the first faculty of Gettysburg College in 1832 and served until ill health forced him to retire in 1866. Ordained into the Lutheran ministry in 1834, he served a three-year term as president and nine years as treasurer of the West Pennsylvania Synod. Although his 1832 title was Professor of Mathematics, Natural Philosophy, and Chemistry at the college, he chose to delve deeply into all phases of science. He made his own instruments when he could not buy them and carefully kept records of his observations. One of the first persons to give lectures on meteorology and to offer instruction on "chemistry with experiments," he encouraged the borough council to offer gas for lighting and became the first president of the Gettysburg Gas Company.
A devout Lutheran, he was one of the chief founders of the Linnaean Society at the college, whose stated purpose was "to promote the cause of Science in the institution, by fostering among its members a spirit of investigation and a love for the works of God." As a resident of Gettysburg in 1863 he closely observed the course of the battle, using the college telescope which he had brought home with him and talking to some of the participants. Within a year he wrote three accounts of the battle, one of which, Notes on the Rebel Invasion of Maryland and Pennsylvania and the Battle of Gettysburg July 1st, 2nd, and 3rd, 1863 was available for purchase by November 1863. Given its limitations in coverage, it is still one of the first careful accounts of the Battle of Gettysburg.
Francis Rawn Shunk

Francis Rawn Shunk, the tenth Governor of Pennsylvania from 1845 to 1848, was born on August 7, 1788 near Trappe, Montgomery County, Pennsylvania, the son of John Shunk and Elisabeth Rawn. Shunk served in the Pennsylvania militia during the War of 1812. After the war he married Jane Findlay, daughter of former Pennsylvania Governor William Findlay, on December 11, 1820. Both before and after the war, Shunk served as a clerk and secretary in both the executive and legislative branches of Pennsylvania government, where he played an active role in moderating partisan tensions. When Democratic gubernatorial candidate Henry Muhlenberg unexpectedly died in August 1844, Shunk was tapped to run by the Democratic Party and narrowly defeated Whig candidate Joseph Markle. He was re-elected in 1847 but, suffering from tuberculosis, was forced to resign his position on July 9, 1848; he died eleven days later on July 20, 1848.
Samuel Whitaker Pennypacker

Samuel Whitaker Pennypacker was born April 9, 1843, in Phoenixville, Chester County, Pennsylvania. As a student during the Civil War, he served in Company F, 26th Pennsylvania Emergency Militia during the Gettysburg campaign, fighting in a brief skirmish north of Gettysburg on June 26, 1863. Pennypacker returned to studying law at the University of Pennsylvania, graduating in 1866. The following year he became president of the Law Academy of Philadelphia. Pennypacker's public service began in 1885 with his appointment to the Philadelphia Board of Education. He was then admitted to the bar of the Supreme Court of the United States in 1887. Two years later he began serving a judgeship on the Court of Common Pleas of Philadelphia, becoming president judge in 1897. In 1900 he became president of the Historical Society of Pennsylvania. In 1902 Pennypacker was elected the 23rd Governor of Pennsylvania, serving from January 20, 1903 to January 15, 1907. During his term, the Child Labor Act of 1905 was approved, which set a minimum age and work standards for young factory and mine workers. He also established the Pennsylvania State Police, the first statewide police force in America. After retiring from politics, Pennypacker opened a law office in Philadelphia. He died on September 2, 1916 at his home in Schwenksville, Montgomery County.
Wilhelm Georg Forster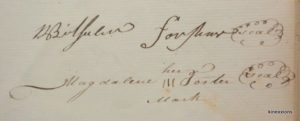 Wilhelm Georg Forster was born circa1748 in or near Halle, Germany (then under Prussian rule.) He was educated at one of the Day Schools founded by August Herman Franke in Halle. In 1764 he emigrated from Germany to America, where, on April 18, 1774 he married Maria Magdalena Daniels at Christ Lutheran Church, Berks County, PA, Tulpehocken Valley, Bethel Township, the same church where the H. M. Muhlenberg – Weiser wedding had taken place. Maria Magdalena was the first female in the Daniels line dating to 1420 (Source: Encyclopedia of Bibliography of Pennsylvania, Vol. 18, P. 294.)
The couple settled in Northumberland County, PA in Mahanoy Township and remained there until sometime in the 1790s. Forster received "depreciation pay" (Certificates #4923 and # 5959, PA Archives, Harrisburg) for service in the Northumberland Militia during the Revolutionary War. The couple had 12 children. Tax records for 1787 show Forster as owning 400 acres of land.
Sometime after 1795 and before 1798 the family moved into the Shenendoah Valley. In 1798 the Hebron Church as well as Mt. Calvary Church, also known as the Hawksbill Church) in Page County (East of Woodstock and North of Luray) petitioned the Ministerium of Pennsylvania and Adjacent States to license this pious farmer as a preacher in the Lutheran Church. (Minutes, Ministerium –June 2, 1798 at Lebanon, PA p. 301).
In 1805 he was appointed to be a "Traveling Preacher" by the Ministerium and he headed for Ohio. ( Minutes, Ministerium, Germantown June 9 and following.) Two journals of trips to Ohio in 1805 and 6 are in the archives at the Philadelphia Seminary. In 1806 in Hagerstown, June 1 and following, the minutes record "the reports of the traveling preachers were red, viz.: that of Mr. Forster to the State of Ohio, and that of Mr. Buttler to the State of Tennessee." A extract was ordered to be printed with 4000 copies of one sheet each.
By 1807 he had moved his family to Thorn Twp, Thornville, Ohio and became the first permanent Lutheran pastor in Ohio. The Minutes of the Ministerium do not mention Forster in 1807. In 1808 he is absent without excuse. In 1809 "Mr. Forster excused himself neither in writing nor verbally." In 1810: "Pastor Forster, without excuse."
However, in 1811 there was a complaint lodged against Forster. No lay delegate accompanied him to the meeting so he carried the complaint himself. Ministerium Item 3 "The complaint against Mr. Forster, that he takes his office too lightly and without understanding preaches much on the Apocalypse, was referred to Pastors Schaefer and Roeller, as a committee. Whereupon it was resolved, that the Ministerium cannot at present have anything to do with this accusation, because of the great distance, and the insufficiency of the reports."
In 1812 at Carlisle May 24-27, Forster was absent, but the minutes read: "Regarding the complaints against Mr. Forster, from the neighborhood of New Lancaster, the Synod desires that the matter be investigated by a Special Conference there which must report to us before we can decide."
The conference was held. Forster took the initiative, accusing a Mr. Leist of invading his field. When asked what his territory was, Forster is said to have raised to his full height and declared, "The Northwest Territory is my field of service."
In 1813 at Reading, June 13-16 with Forster again absent the Minutes read: "Further a letter from Pastor Forster in which he maintains his innocence in reference to several complaints brought up against him at last year's meeting of Synod, and at the same time also complaints against Mr. Leist that he is forcing himself into his congregations. Along with this letter there was a favorable testimonial for Mr. Forster from Mr. J. Ziegler.
"Lastly, this number also contains a report of a special conference held in May, 1813, when among other matters the dispute between Mr. Forster and Mr. Leist concerning Ziegler's church in Fairfield County was settled, and to this effect that the special conference deems it best for Mr. Forster to give up this congregation, and Mr. Leist to take charge of the same."
The Minutes of 1814 make no mention of Forster, though all absent preachers had sent excuses. In the Spring of 1815, Forster was injured from the fall off a horse and by early summer he was dead. (July 11).
His tombstone, in the family cemetery in Thorn Twp., reads "William Foster", the "r" having been dropped from Forster.
I have a copy of his will.
Maria Magdalena lived until 1823.
Prepared by Andrew J. White III, Chambersburg, PA , great-great-great grandson.